Journal of Indonesian Agribusiness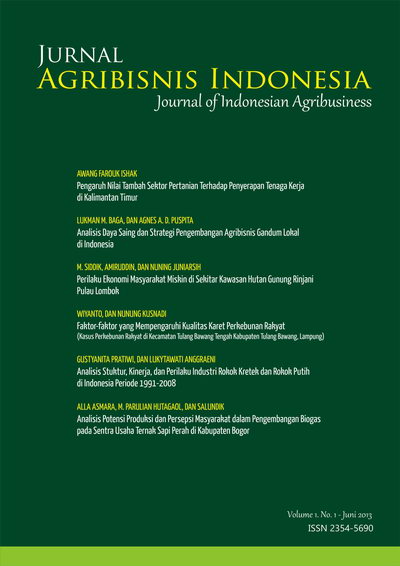 Journal of Indonesian Agribusiness is a periodical scientific journal of agribusiness and agricultural economics in Indonesia. This journal is a dissemination media of research and ideas of faculties, researchers, and practitioners in agribusiness.
This journal focuses on the macro and micro approach in agribusiness study. The macro approach considers agriculture socio-economy aspects of agribusiness as an integrated and comprehensive system, from upstream subsystem, on farm subsystem, downstream subsystem, and supporting subsystem and its interelation with the government policies, international economy and the capitalization of land resources, farmers and communities. The micro approach studied the agribusiness development (financial, business policy, technical and functional aspect).
Visit JAI online Jourmal : http://journal.ipb.ac.id/index.php/jagbi/issue/archive
JAI Vol 4 No 1 June 2016
02 PENGARUH KELUARGA DAN LINGKUNGAN EKONOMI TERHADAP… (Febrina Mahliza, Wahyu Budi Priatna, dan Burhanuddin)