IPB Gelar Seminar dan Ekspo Untuk Dorong Mahasiswa Jadi Entrepreneur Sukses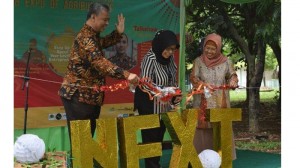 TRIBUNNEWSBOGOR.COM - Departemen Agribisnis, Fakultas Ekonomi dan Manajemen, Institut Pertanian Bogor (FEM IPB) kembali mengadakan seminar dan expo kewirausahaan pada hari Minggu, 9 Desember 2018.
Acara yang diadakan di Taman Koleksi Kampus IPB Baranansiang Kota Bogor ini bertujuan untuk menggembleng mental civitas akademiknya menjadi wirausahawan-wirausahawan sukses.
"To speed up and step up mahasiswa untuk menjadi entrepreneur karena entrepreneur adalah orang yang siap (berperan) sebagai aktor utama dalam membantu masyarakat," kata Dr. Ir. Lukman M. Baga,MA.Ec, dalam sambutannya selaku Wakil Dekan Bidang Akademik dan Kemahasiswa FEM IPB.
Lebih dari itu, Dr. Ir. Syarifah Iis Aisyah, M.Sc.Agr. selaku Pelaksana Harian (PLH) Wakil Rektor Bidang Inovasi, Bisnis dan Kewirausahaan IPB berharap acara ini dapat menjadi bagian dalam mempersiapkan Indonesia menyambut bonus demografi 2030.
"Saya berharap adik-adik mahasiswa yang menjadi wirausahawan ini (mampu) be patient, be creative dan be innovative agar menjadi wirausahawan sukses sehingga tahun 2030 nanti dapat mendapatkan bonus demografi sebagai anugerah, bukan sebagai musibah," ujar Syarifah.
Seminar dan expo kewirausahaan tahun ini merupakan acara ke-7 yang diadakan Departemen Agribisnis FEM IPB. Tema yang diusung tahun ini adalah "Step Up and Speed Up Your Level to Be Entrepreneur 4.0″.
Acara ini mengundang berbagai tokoh yaitu Ir. Muzakkir (Direktur Utama PT. Zoom Infotex Telesindo), Ir. H. Dian Herdiawan, MM (Kepala Bidang Penyuluhan Dinas Pertanian Kota Bogor), Dea Narpati Maulana, S.Sos (Institutional Banking Offincer BNI), dan Noor Rafita, SE (Owner Rafifa's Cake).
Seminar dan expo kewirausahaan ini diikuti oleh seluruh mahasiswa-mahasiswi Departemen Agribisnis FEM IPB semester tujuh yang terbagi menjadi dua puluh kelompok.
Setiap kelompok memperkenalkan masing-masing produknya yang selanjutnya diperlombakan dan dinilai oleh praktisi-praktisi yang sudah berpengalaman di bidang kewirausahaan. Juara kategori ide bisnis terbaik diraih oleh tim Green Souvenir (@greensouvenir_), El Macho (@el_macho,co), Bate Chocholate (@bate.olate) sedangkan juara kategori stan terbaik diraih oleh tim Adorablossom (@adorablossom.id). (HAN)