SUMMER COURSE "Inclusive and Sustainable Agribusiness: Oil Palm" 2018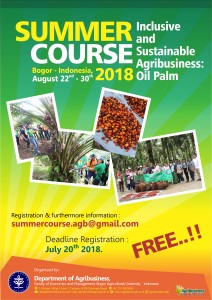 SUMMER COURSE "Inclusive and Sustainable Agribusiness: Oil Palm"
AUGUST 22nd – 30th, 2018
Calling all foreign participants!
Are you interested in broadening your knowledge on oil palm from many perspectives? Join SUMMER COURSE "Inclusive and Sustainable Agribusiness: Oil Palm" on August 22nd – 30th 2018! Last year participants came from 6 countries (Australian, Austria, Germany, Indonesia, Thailand and Japan).
This program will be held in Bogor and Sumatra for couple weeks. It's organized by Department of Agribusiness, Faculty of Economics and Management, Bogor Agricultural University.
The objective of the course is to explore Indonesian palm oil industry. During summer course program, the participants will be given lectures in class at IPB Bogor in the first week then conduct field visit in Sumatra.
The participant also has opportunity to study local cultural such as Batik process and visit Bogor Botanical Garden.
The foreign participants are expected to become the enlightened constituents of Indonesian palm oil industry.
Schedule *)
| | | |
| --- | --- | --- |
| Day | Agenda | Location  |
| Day 0 | Arrival in Bogor | |
| Day 1 | Registration Opening Ceremony Class : –  Production Aspect of Oil Palm –  Economic of Palm Oil | Bogor |
| Day 2 | Class: –  Palm Oil and Its Derivatives –  Sustainable Palm Oil | Bogor |
| Day 3 | Field Visit –  Surfactant and Bioenergy Reseach Center (SBRC) | Bogor |
| Day 4 | Field Visit –  Jonggol Teaching Farm | Jonggol |
| Day 5 | Batik Workshop  " Handayani Geulis" (in charge) Bogor Botanical Garden | Bogor Baru |
| Day 6 | Flight to Sumatra | Sumatra |
| Day 7 | Company Visit | Sumatra |
| Day 8 | Technical and Planting Area | Sumatra |
| Day 9 | Back to Bogor | |
| Day 10 | Group Presentation Discussion Closing Ceremony | Bogor |
*) tentative
Information :
Classes will begin at 8.30 a.m. and end at 4.00 p.m.
Students must participate in all activities
Registration : please submit short CV to email summercourse.agb@gmail.com

Deadline Registration : July 20th 2018